UNU-IAS Post-Doctoral Fellowship: Learning from the people 
By Ranjeeta Mishra, JSPS-UNU Postdoctoral Fellow.
---
Documentary Screening at UNU – It Stays With You: Use of Force by UN Peacekeepers in Haiti
By Tamara Luisce, UNU-IAS
One of the biggest challenges that the United Nations has had in the past decade has been the peacekeeping operations in Haiti. The United Nations Stabilization Mission In Haiti, better known as MINUSTAH, for its acronym in French, began operations in Haiti in 2004. MINUSTAH has been highly criticized not only by local groups in Haiti but also by multiple countries and international watch groups. The main criticisms mentioned are the irresponsible use of force, rape and the cholera outbreak of 2010. Read More.
---
Humanitarian Networks and Partnerships Week 2018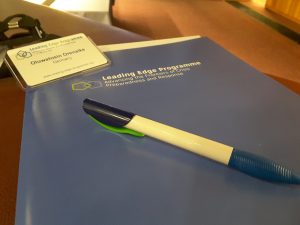 By: Oluwatosin Orenaike, UNU-EHS
"We have moved from few organizations to over thousands of organizations in humanitarian…, this shows a more representation and dynamic humanitarian network, more data and more output…, however, there is still displacement, neglecting of the displaced, without attention…there is a need for us to be better at working together"
 (Excerpt of the Inter-network day opening speech of the by Jan Egeland, Secretary-General of the Norwegian Refugee Council)
The Humanitarian Networks and Partnerships Week (HNPW 2018) for the fourth year was held at the International Conference Centre (CICG) in Geneva, Switzerland from 5-9th of February 2018. As a Masters student in Geography of Environmental Risk and Human Security with the United Nations University of Environmental Risk and Human Security (UNU-EHS), who has taken classes in  "risk and Humanitarian Security" my interest in this year's conferences is not far-fetched as it held prospects for a possible career choice and of course an opportunity to visit Geneva, Switzerland.Read More