Long-lasting peace includes nature
Author: Maria Alejandra Aguilar
In the front line of armed conflicts, human rights violations often coalesce with the destruction of nature, a silent victim. Air, water and soil are polluted, and wilderness is disrupted as different scenarios of war are more likely to take stage in rural areas, non-excluding urban terrorism, as is a common modality, but many internal conflicts have been confined to places far from the controlled urban centers.
This has been the case in Colombia, and other countries in the region with similar history.  The recent peace process with the Revolutionary Armed Forces of Colombia People's Army (FARC), one of the oldest guerilla groups in the world which origins date back to 1950´s , leave some important lessons when it comes to including nature as a direct victim of conflict, because to some level it acknowledged liability in the damage of nature as result of the war.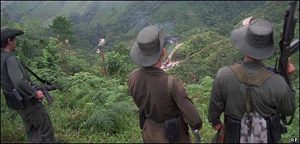 FARC members in Caqueta Colombia. (Source: BBC)
The approach of nature as a victim, refreshes the traditional position of what is conceived as transitional justice. Reparation efforts are directed to restore nature and recognize it as a victim, in similar ways as reparation is deliver to human victims. Most importantly, where compensation is relegated to a small part of the reparation, and instead, rehabilitation and the guarantee of no repetition within material and symbolic reparation, come to play an outstanding role in justice pursue for peace building.
Even though, Colombia´s case is complex and rumbles in dichotomy, the country is doing an effort to move in the right direction. In one hand there is the fact that some areas of the Amazonia were kept mostly pristine, such is the case of Chiribiquete. Due to the phenomenon of imposed conservation, as FARC forced restrictions of land use and transit, moreover the general desolation that war leaves behind. On the other hand, mass destruction related to indiscriminate attacks, such as oil pipelines, bombings, illegal mining and illegal coca monocrops.
Beyond these issues, Colombia peace agreement in the chapter for a "Rural Integral Reform", advances in the inclusion of nature as an important pillar for peace. This chapter opens a variety of possibilities were nature is part of the reparation process and to some extent recognized as a victim itself.
The Integral Rural Reform is an important first step for sustainable development after conflict, where humans and nature coexist in harmony.  Among the highlights reside the opportunity of former guerilla rebels are able to participate in different activities that include nature-based solutions, illegal economy reconversion based on new productive projects which includes changing coca crops for ecofriendly bioproduction of a range variety of products, like cacao beans, pineapple, organic fertilizers, among other; to help transition the ex-combatants to civil life. In the same lines, other programs of Payment for Ecosystem Services (PES) can be found, these directly linked to reforestation and restauration efforts, where victims of the conflict and perpetrator work together for the conservation of nature. Moreover, it also brings the chance of ex-combatants to be formed as new park rangers committed to safeguard protected areas.
Notwithstanding Colombia´s Peace Agreement is in its first stages of implementation with a long road ahead, is no doubts that including nature as priority is a promise for a better future; and this approach has been proved to be successful in other latitudes, so it's the case of Mozambique, were ex-rebels have followed a path as conservationist and park rangers, a practice also replicated in the Philippines .
These initiatives are sign that the recognition of environmental damages caused by war where nature is another victim in need of reparation. Reparation is key to ensure peace within people and the land; which ultimately, promote the evolution of transitional justice, redressing the systematic violation of nature rights as human rights.