Beyond homophobia: The fight for human rights in Brazil
Author: Gabriel Wilson Tavares Calderaro (UNU-IAS)
Source: Paolo Pinto (Fotos Publicas)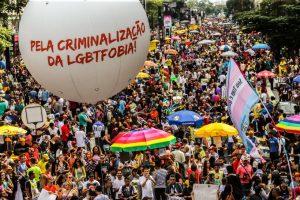 On February 13th, 2019, the Supreme Court of Brazil (Supremo Tribunal Federal – STF, in Portuguese) started to debate two lawsuits on legislative omission on the
criminalization of homophobia and transphobia, both of which heavily impact the LGBT+ community. These lawsuits are a result of inaction by the Brazilian Congress to
include that group in legislation designed to protect their integrity and right to life.
On the next day, as the debate continued in Brasilia, the national capital, the beaten and bloodied body of the 18- year-old Davi Silva Amaral was found. He was in an abandoned plot of land on the neighborhood he lived in Santarém, state of Pará, with multiple fractures on his head. A week later, when the Supreme Court continued its legal procedures thousands of miles away, the criminal responsible for attacking Davi was arrested and confessed that his motivation was not based on any personal grievances, but rather homophobia. Despite the arrest of the perpetrator, there was no sense of justice or victory; Davi had been pronounced brain dead by doctors on the 17th.
Brazil is a violent country. There is no need to argue on that. Data from the World Bank ranks the country as the 8th most violent, with 30 homicides per 100 thousand inhabitants in 2016. Members of the LGBT+ community are a particularly vulnerable group, with. According to Grupo Gay da Bahia (GGB), an LGBT+ victim is dying a violent death every 19 hours on average.
GGB is an NGO that has been collecting data on the murder of transgender and homosexual individuals for 38 years. Their data points that the number of deaths has risen 30% between 2016 and 2017; it has increased from 343 to 445, crowning Brazil as country with the most LGBT+ deaths in the world. The main causes of death were firearms and cold weapons, such as knives. The most targeted groups were gays and transgender individuals, which accounted for 86.5% of victims. Most of these hate crimes took place in public roads and spaces – an astounding 56%, while 37% of crimes happened in the victims' residences; this can point out that there is a worrying lack of safe spaces for queer people. Overall, this paints a grim picture for
those that are part of the LGBT+ or are allies, as 12 heterosexual people were murdered for trying to help and save LGBT+ individuals in 2017, according to the newspaper O Globo. The news outlet used data from GGB that is not publicly available at this time.
One of the challenges for writing this piece was access to information, as there are no governmental databases regarding victims and survivors of discrimination and hate crimes, so any data gathered by NGOs and other groups may be lower than the actual number. Some crimes may not even be reported as homophobic for a number of reasons. The lack of significant information also makes it difficult to see the reflex of other aspects of an individual's life in their likelihood to suffer an aggression, such as ethnicity. The lack of data also reiterates the marginalization of LGBT+ people in official policies and programs.
That may come as a surprise for many that know of the LGBT+ community in Brazil but have never been witness to the juxtaposition between its vibrant queerness and inclusion, as the largest pride parade in the world and one of the countries to have legal gay marriage, and its strong conservative religious and oppressive side.
During electoral season in the second half of 2018, frontrunner then and current president Jair Bolsonaro incited hate within his speech, not only against the LGBT+ community but also against women, and even refugees. He individually did not commit any crimes, but his attitude and words opened the doors for his supporters to act on the aggressive feelings that he voiced. A poll conducted by Gênero e Número, 51% of interviewed people suffered at least one kind of aggression during the second semester. Another 87% heard of another LGBT+ person suffering some kind of aggression. During the second semester of 2018, I was not living in Brazil, so I did not experience any kind of discrimination or aggression firsthand, but many close friends told me of their fear of leaving their homes because they had already heard threats on the street. Some of the things they heard were along the lines of "Bolsonaro is coming," and that "gays won't be allowed to walk on the streets like that anymore."
This brings this piece back to the lack of protection for the LGBT+ community in comparison to other targeted groups and how the Supreme Court of Brazil has stepped in to address the issue. However, the response for the tribunal's "activism" – in the words of the Minister for Women, Family, and Human Rights – has not been the most positive. Congress has decided to pressure the tribunal by suggesting bringing back proposed amendments to the constitution on life conception and abortion rights that have a heavy religious tone that should not have place in a secular state. Legal rites have pushed the decision on the criminalization of homophobia and transphobia did not have any perspective of continuing for the moment. However, popular demand and pressure from stakeholders could be responsible for the debate having an exact date to continue, May 23rd. By the closing of the last session of debating and voting the issue, four justices have already showed their support for the criminalization of homophobia and transphobia in one form or another. The crux of the issue, however, is that the judiciary branch cannot create a law without breaching the separation of powers of the Brazilian Republic. Thus, it can only recriminate the legislators for nor taking action on the issue sooner and urge them to take immediate action.
As this legal battle unravels, people continue t die simply for not conforming with societal norms, just like Davi did. Neither the LGBT+ community nor its allies should let fear stop them from speaking out about the violence and injustice we suffer. As a protest chant that became famous during election season says, "If it hurts my existence, I will be resistance." Let's keep fighting!