UNU G20 Simulation: Revisiting an Old Friend
By- TANDOKO, Effendi (UNU-IAS M.Sc Student)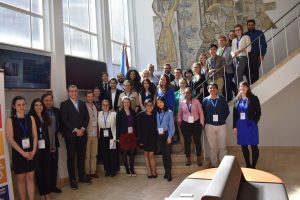 Prior in 2017, UN University – Institute for the Advanced Study of Sustainability (UNU-IAS) was invited by its counterpart UN University – Maastricht Economic and Social Research Institute on Innovation and Technology (UNU-MERIT) to participate in a G20 Simulation hosted by the latter on 7-8 April 2018. As the result of a selection process, Tamara (UNU-IAS 2nd Year Master's Student) and I were chosen to take part in the conference. We were then assigned a country to represent and a partner each to construct a Position Paper on the topic of Refugees Crises in Europe, Asia, and Middle East. I was so intrigued to be the Italian Republic whereas Tamara got to represent the Federative Republic of Brazil. Both are significant regional actors in terms of receiving and taking care of refugees and migrants which would have implications for our later stances. But beyond the veil of exciting individual research, specific details such as but not limited to the Summit's Procedures were not revealed until just before the conference. Read more.
---
Conservation Needs Behavioral Change
By- Annita Kirwa (UNU-EHS, M.Sc Student)
Photo by: Anson Pulivelil

How many more species can we afford to lose before we understand its harmful effect? Not long ago the world was mourning the death of the last of its kind, Northern white rhinoceros (Ceratotherium simum cottoni), which was threatened to extinction because of poaching and habitat loss. This has raised a chain of reaction among different disciplines- professionals, practitioners, activists and scientists on the survival of other flora and fauna species. It is heartbreaking to witness the continuation and neglect of human results in bringing more species to the brink of extinction. Read more.
---
World Water Forum (2018) – highlights from Brasilia
By- Julia Lopes Ferreira (UNU-IAS, M.Sc Student)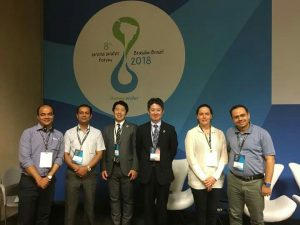 The World Water Forum (WWF) held in Brasilia last month was the largest so far, hosting around 100,000 people in the Forum and in its open-access Citizen Village.
Among contributions in different fields of integrated water management, one of the main legacies of the Forum was the Brasilia Declaration of Judges on Water Justice. For the first time, a group of supreme court justices from different countries debated together in a mock International Water Court of Justice, in an attempt to build consensus on the prioritization of universal access to water and the "in dubia pro water" clause. Read more.
---