The UN Steps Up Action Against Sexual Exploitation and Abuse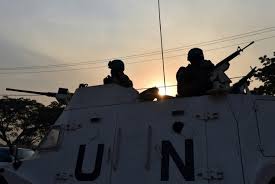 By Nsioh Macnight
Throughout the past 12 years, there have been nearly 2000 allegations of sexual abuse and exploitation by UN peacekeepers and other personnel around the world, with more than 300 of these allegations involving children. Despite the widespread accusations, only a fraction of the alleged perpetrators is serving jail time for their crimes. This is according to an Associated Press' (AP) investigation of UN peacekeeping missions. The AP's report signals how large the crisis is and the ever-increasing need for the UN to clamp down on these practices, especially since they are tarnishing the organization's image by preying on the populations that the UN is promised to protect. Although allegations of sexual exploitation and abuse have dropped from 69 in 2015 to 48 in 2016, there were allegations in 10 out of the 16 current peacekeeping missions worldwide. The former Secretary General of the UN, Mr. Ban Ki-moon once referred to rogue peacekeepers as "cancers in our system" and indicated that a failure to pursue criminal accountability for sexual crimes is tantamount to impunity.
The first time that sexual abuse and exploitation was brought to the public's attention was in 1993 when accusations were made that UN peacekeepers in Cambodia had been sexually abusing local populations. In 2001, the issue was revisited when Save the Children UK published a report that aid workers closely linked with UN peacekeeping operations were sexually abusing and exploiting children in several West African countries. The scandal of the Central African Republic were over 100 alleged cases of sexual abuse on local populations by peacekeepers is still fresh in our minds.
There is reason to believe that there is a gradual shift in how the UN handles sexual abuse and exploitation. The annual report (Progress against Sexual Abuse in UN Peacekeeping) published in March 2016 was ground-breaking in that, for the first time, the nationalities of alleged perpetrators were included in the report. This "name-and-shame" approach might be a way to force contributing countries to hold perpetrators accountable. This report also paved the way for the UN Security Council Resolution 2272 (2016) on sexual exploitation and abuse by United Nations Peacekeepers. Essentially, the resolution stipulates that an entire unit can be sent home to be replaced by a different unit if there is "credible evidence" that the unit is engaging in "widespread and systematic" abuse. In these and other cases, the troop-contributing country should carry out criminal proceedings against the alleged perpetrators. If the country does not do so or in a way that is unsatisfactory in the eyes of the UN, then the resolution requires that the Secretary General repatriate that entire country's peacekeeping force from that mission.
In February 2016, former UN Secretary-General Ban Ki-moon appointed Jane Holl Lute of the United States as Special Coordinator on improving the Organization's response to sexual abuse and exploitation, following his analysis of the report of the High-Level External Independent Review Panel on Sexual Exploitation and Abuse by International Peacekeeping Forces in the Central African Republic. Almost a year on, current UN Secretary-General Antonio Guterres asked Ms. Lute to lead a high-level task force to improve the United Nations approach for preventing and responding to sexual exploitation and abuse. In an interview with UN News, Ms. Lute echoed the Secretary General's concern that "deep gender inequality is at the heart of what sexual exploitation and abuse is." The UN Secretary-General, in a message announcing his report on special measures for protection from sexual exploitation and abuse: a new approach, released on March 9, 2017 decried such cruelty and insinuated that "no person serving with the United Nations in any capacity should be associated with such vile and vicious crimes." The report outlines a four-track, victim centered strategy that is rooted in transparency, accountability and ensuring justice. The four areas of focus of the strategy are: putting victims first; ending impunity; engaging civil society and external partners; and improving strategic communications for education and transparency.
Addressing sexual exploitation and abuse is a matter of uttermost importance for Antonio Guterres. This problem, however, is not unique to the UN and to create lasting change there is need for cooperation and partnerships with member states. Hopefully, we are going to see additional measures in the coming months that will require efforts both on the part of the UN and member states aimed at building partnerships to stop protectors from becoming predators.