Germany and the Refugee Question in Europe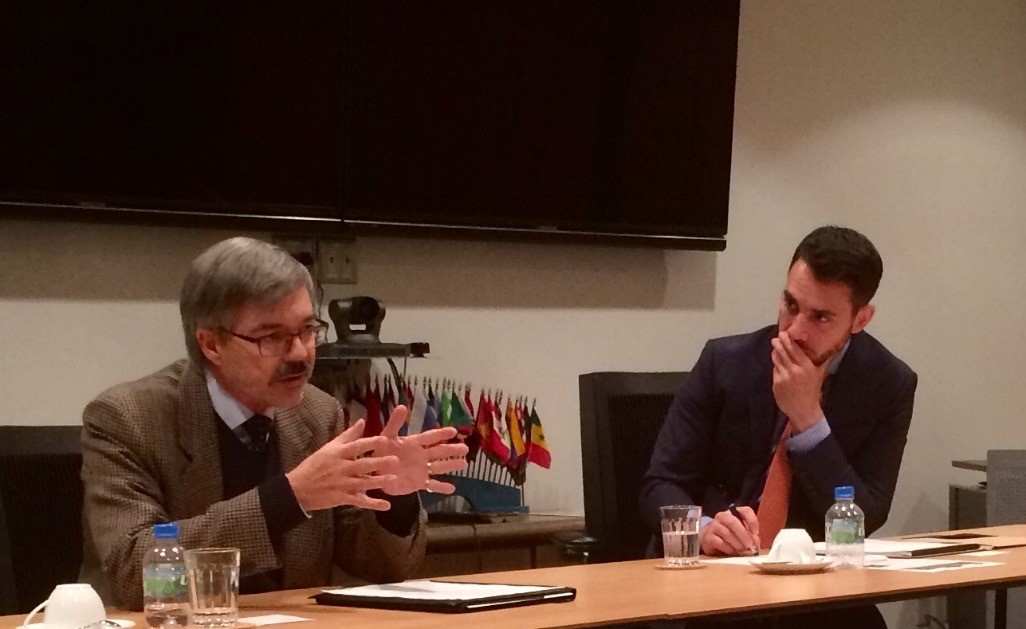 A Conversation with H.E. Dr. Hans Carl von Werthern, Ambassador of Germany to Japan
By Tamara Luisce
One of the most pressing challenges of this decade has been the influx of Syrian refugees across the European continent. The current Syrian refugee crisis in Europe began in 2015 with thousands of asylum seekers arriving in the coasts of Greece and then spreading across the continent. Per the United Nations High Commission for Refugees (UNHCR), 856,723 refugees arrived in Greece in 2015, about half of them were Syrians. In 2016, the number of refugees arriving by sea decreased substantially, about 42%. However, given the existing turmoil in the Middle East, particularly in Syria, the influx of refugees is not expected to end anytime soon. Under Angela Merkel's leadership, Germany has welcomed over one million of them and has taken a central role in managing the situation.
On December 7, 2016, the Ambassador of Germany to Japan, H.E. Dr. Hans Carl von Werthern, came to the United Nations University Headquarters in Tokyo to discuss several key points regarding the actions taken by the German government in response to the Syrian refugee influx. Among these key points were the social and political implications of such actions.
The Ambassador began his discussion by emphasizing that the issues at hand should be referred to as the refugee question and not the refugee crisis or problem. He explained that Angela Merkel's response to the refugee question with the words "we will manage" ("Wir schaffen das") was misinterpreted and did not mean "everyone can come". While there have been problems in refugee registration, the German administration has made progress incorporating the refugees. Angela Merkel's decision not to set an upper limit to the number of refugees entering Germany has been highly criticized by the Christian Social Party, a major conservative party. He explained that it is necessary for a society to actively discuss the effects of refugees into the receiving country as there has been an outburst of xenophobia and islamophobia.
He then explained that following WWII, Germans have been grateful to those who took the German refugees during the war; as a result, there was an increase of incoming foreign refugees in Germany since 1945. While there is a clear distinction between the protections that refugees have in Germany versus those of economic migrants, it is increasingly difficult to categorize people and to tell some to leave. He mentioned that the most important challenge is to address the root cause of the issue in Syria. Unfortunately, while Europe has a responsibility to protect and support developing countries, it has not been very good at doing so.
Next, the Ambassador talked about populism and terrorism in Germany. First, the refugee question has given rise to the Alternative fur Deutschland (AFD), a right-wing populist party with an anti-Islam and anti-immigrant platform. Meanwhile, many people in Germany fear that terrorists will enter the country as refugees. Dr. Werthern is convinced, however, that rather than terrorists coming into the country posing as refugees, that homegrown terrorism is a higher threat. If Germany does not manage to effectively integrate refugees into its society by providing education, jobs, and language learning opportunities, they will be vulnerable to being recruited by terrorist groups.
The session ended with questions from the  audience to the Ambassador. His answers provided additional insight to the issues at hand. For instance, he added that at a local level most Germans have been very welcoming to refugees, yet, strong waves of xenophobia are found in East Germany, where there are hardly any foreigners and pre-conceived ideas prevail. Despite an increase of populist success, examples being in the United States and France, to an extent, Dr.  Werthern is confident that the strong leadership of Angela Merkel will not let this grow in Germany. He then commented that Europe needs an agreement for the redistribution of refugees in an equitable way to keep Germany from carrying by far the largest load. To the question of xenophobia as a response to crimes committed by refugees, he answered that crimes have to be dealt with on a case by case basis and cannot be attributed to all people. He invited the audience to make stronger efforts when talking to racist and misinformed people in order to achieve progress beginning at an individual level. He added that while Germany is in no position to give advice to other countries, such as Japan, other countries should keep in mind that Europe is strong as a result of diversity. Lastly, he added that Germany is making progress in supporting and integrating refugees but that Germans expect them to adhere to some fundamental values such as gender equality.