Colombia Peace Deal Renegotiated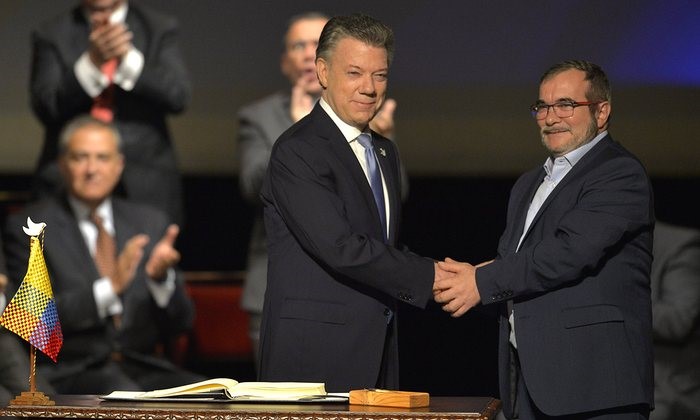 Colombia Peace  Deal Renegotiated
By Joseph Cook
After 52 years and one of the longest running civil conflicts in Latin America, the Colombian Government, and the Revolutionary Armed Forces of Colombia (FARC) have ratified a revised peace agreement after years of negotiation. Per reports, the civil conflict in Colombia has resulted in 220,000 fatalities, 25,000 disappearances, and 5.7 million displaced people.
Colombians rejected the first peace agreement on October 2, 2016 after President Juan Manuel Santos called for a referendum to allow the people of Colombia to either accept or reject the terms of the agreement. BBC news reported that 50.2% of voters rejected the peace accord in the national referendum, while 49.8% voted yes to its implementation. Despite the result, a ceasefire was upheld and this was an encouraging sign by the United Nations, who were actively involved in the discussions. The opposing sides also promised to continue their efforts in amending the terms of the agreement, taking into consideration the opinion and views expressed by Colombians during the referendum.
Following further negotiations, the Colombian government and FARC members signed a revised agreement on 24 November 2016. It was then subsequently ratified by the Colombian Congress on the 30 November 2016. The discussion for peace was centered around key themes including issues of transitional justice and reparations, rebel disarmament, land reform, political representation, and reintegration of rebels into civilian life. In 2016. Colombian President Juan Manuel Santos won the Nobel Peace Prize, for his efforts in this peace process.
The ratification of the peace deal shows that peace can be reached with negotiation, and that progress is possible even after years of conflict. Although there is skepticism about the changes to the agreement made after the referendum, whether justice will be reached for those affected by the conflict and whether both sides will uphold their commitments to the deal, the next stage is the implementation of the agreement. To transition into a post-conflict society, it is now up to both sides to rebuild relations between the Colombian people and the government.Together, Colombians can create a society that reflects these new commitments and ensure long-lasting peace.